The stroopwafel, the little cookie with a BIG IMPACT. That the founder of Amsterdam! Good Cookies loves his stroopwafels should not come as a complete surprise. "But I try not to eat my own cookies every day," says the good-humored entrepreneur, "although sometimes I have a hard time resisting them."
Kevin Mooibroek 's love for the cookie began at a young age, but blossomed when he spent time in Costa Rica. "I worked in that country for several years as a sales executive at The Goodness Company. When, of all places, in Costa Rica, I once again experienced the wonderful smell and taste of syrup waffles, I came up with the idea of giving our relations a pack of syrup waffles as a gift. The response was super positive and then it went off like a rocket!"
Back in Holland, Kevin decided to start selling the stroopwafel internationally and so Amsterdam! Good Cookies born.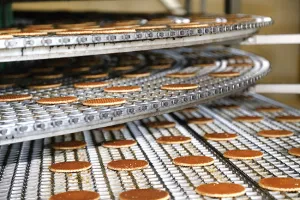 Small cookie, big impact
That was in 2014. Anno 2020, the brand has become an international player in the cookie market. From the industrial park in Emmen, Kevin operates worldwide. For example, products are regularly shipped to Taiwan, China, America, Poland, Spain and Greece.
But things are also going well domestically, Kevin points out. "For example, we stand with special food trucks at events. One of them, a converted old fire truck, was named the most beautiful in our country a few years ago. We can also be at trade shows with a very nice special coffee syrup waffle bar. That construction works very well. In addition to events, we also do corporate gifts. We deliver, completely in our client's corporate identity, syrup waffles in the packaging that is desired. This is heartening for companies looking for a unique corporate gift, or for birthday parties who want to treat or just when you want to thank someone. You can discover it all in our webshop: webshop.amsterdamgoodcookies.com"
Bright future for Amsterdam! Good Cookies
But it doesn't end there for Kevin Mooibroek and Amsterdam! Good Cookies. "Just as when people think of a snack they quickly think of that business with the golden arches, when they think of a stroopwafel they should think of Amsterdam! Good Cookies," he says with a cheerful smile. And although business is very good, Kevin feels there is still plenty to do. "Thus, in a few years we are going to take care of everything ourselves, such as a production line in our own new factory. We're really looking forward to that and it means the next step for Amsterdam! Good Cookies."
"In addition, we are going to add different colors and flavors to our syrup waffles. Stroopwafels with peanut butter, caramel sea salt or whatever the customer wants. What we would like is that people can then taste the cookies in our own stores, over a nice cup of coffee. Seeing happy people enjoying our products makes me very happy. Our motto isn't We Make People Smile for nothing !"
Would you like to know more about our syrup waffles or what we can do for your company in terms of corporate gifts, for example? If so, please contact us without obligation.